The Praedium Group Acquires Gatehouse on the Green in Plantation, FL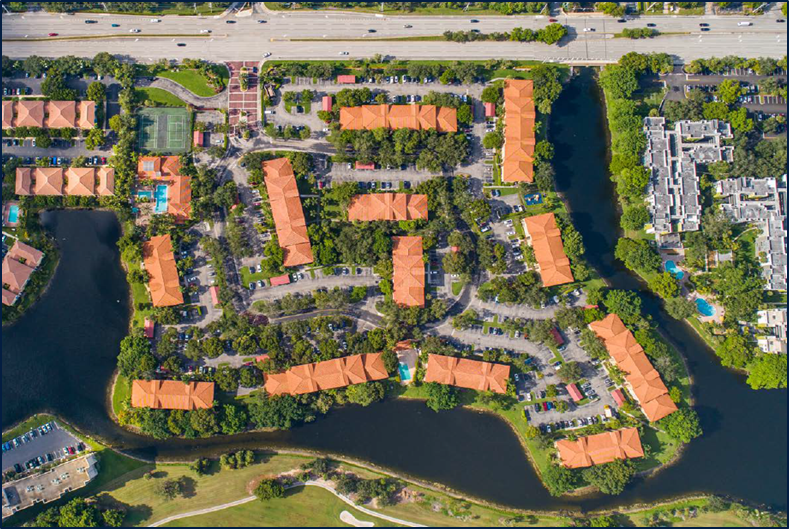 New York, NY – January 12, 2021 – The Praedium Group (Praedium), a New York City-based national real estate investment firm, today announced the acquisition of Gatehouse on the Green, a 312-unit multifamily community in Plantation, FL. Chris Hughes, Principal of The Praedium Group, announced the investment firm's most recent acquisition.
Constructed in 1991 to a high standard with concrete block construction, nine-foot ceiling heights and units overlooking a lake and golf course, Gatehouse on the Green will undergo a modernization enhancement program including upgrading common areas, landscaping and unit interiors. The multifamily community is comprised of 140 one-bedrooms, 114 two-bedrooms and 58 three-bedroom homes centrally located near Plantation's Midtown Business District, the recently built American Express Regional Headquarters, Sawgrass and Sunrise Office Parks and Downtown Fort Lauderdale.
"We are excited to add this asset to our portfolio," noted Lindsay Schuckman, Vice President at Praedium. "Gatehouse on the Green provided an opportunity to acquire a quality property with potential to modernize through our hands-on asset management approach and planned capital enhancements. The property's central location surrounded by high-paying employment drivers, expansive amenities and attractive setting overlooking a lake and golf course, make Gatehouse on the Green one of the premier residential complexes in the region."
Community amenities at Gatehouse on the Green include two swimming pools and wading pool, outdoor grilling area, fitness center with indoor racquetball court, outdoor tennis courts, clubhouse with billiards room, car wash area, fitness center, and children's playground.
In addition to its proximity to a number of major employment hubs, the property is just one mile from Westfield Broward Mall, which features 125 retail and service shops with a $20M redevelopment plan to add six restaurants and five retail spaces, and Plantation Walk, a 350,000-sq.-ft. mixed-use lifestyle center under construction. There is another 3.7 million sq. ft. of retail, restaurants and entertainment within five miles of Gatehouse on the Green that includes a Publix, Whole Foods, Costco, Ikea, Bed Bath & Beyond, The Cheesecake Factory, Brio, Lululemon and Trader Joe's.
Additionally, a component of the modernization plan includes implementing environmental and sustainability "green" initiatives that are estimated to reduce source energy and water usage at the Property each by approximately 15%.
"Praedium's ESG initiatives aim to address environmental factors on a property-specific basis. As a property that was built in the 1990's, Gatehouse on the Green allows us the opportunity to implement meaningful changes that can decrease its environmental footprint," said Shelly Baldwin, ESG Officer at Praedium.
ABOUT THE PRAEDIUM GROUP
The Praedium Group is a privately-held real estate investment firm formed in 1991. Since inception, Praedium has completed over 370 transactions representing $12 billion of capital. Over the past 29 years, The Praedium Group has sponsored a series of ten private equity funds, as well as several separate investment vehicles. The commingled funds and separate accounts sponsored by The Praedium Group have attracted investors that include public and corporate pension funds, financial institutions, insurance companies, foundations and endowments. For more information, please visit www.praediumgroup.com