Praedium Group Acquires Lenox Clear Lake in Houston, TX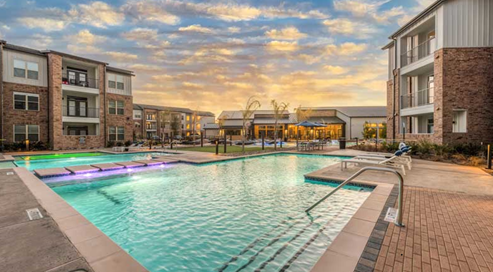 New York, NY – May 3, 2022 – The Praedium Group (Praedium), a national real estate investment firm, announced the acquisition of Lenox Clear Lake, a 380-unit, newly developed suburban multifamily property in Houston, TX, from OHT Partners. Peter Calatozzo, Principal at Praedium, announced the transaction, which is the second purchase by the company in the MSA in the past several months.
Completed in 2021, Lenox Clear Lake features traditional flats and two-story townhome units that boast modern gourmet kitchens, stainless steel appliances, granite countertops, vinyl plank flooring, full-sized washer and dryers, tile backsplashes, walk-in closets, undermount sinks, USB outlets in kitchens, LED lighting, and ceiling fans in living areas and all bedrooms.
The best-in-class amenity set at the Property includes two resort style pools with cold spas and sundecks, eight poolside cabanas with flat screen TVs and ceiling fans, a poolside pavilion with outdoor kitchen with built-in gas grills, ice maker and smoker, outdoor fireplace, two enclosed dog parks, covered boat or car storage and access to a private jogging trail adjacent to Bay Area Hike and Bike Trail. Additional amenities also include an indoor modern clubhouse and leasing office, co-working business center with private workspaces, fitness center with fitness-on-demand and outdoor fitness and yoga space, recreational lounge with a pool table, arcade games and bar seating, a pet spa, and package lockers with cold storage capability.
"Houston is the fifth largest MSA in the nation, and though the market is historically recognized as a large hub for energy-related businesses, the Houston economy has been rapidly diversifying over the past several years. Today, Houston's economy services a diverse industry base that includes energy, transportation and logistics, aerospace and aviation, life sciences and biotechnology, education, and health services," said Mr. Calatozzo.
With material investments throughout the metro in healthcare and medical research, such as the $3 billion in construction activity at the Texas Medical Center, Houston continues to firm its position as one of the top life science destinations in the US. In addition, Mr. Calatozzo added that, "The large presence of the aerospace engineering industry in Houston and the distinguished legacy of the Lyndon B. Johnson Space Center as the key facility for the research and advancement of human spaceflight, coupled with the Houston Spaceport, one of the few FAA-licensed, urban commercial spaceports in the US, places the Clear Lake submarket in a prime position within the burgeoning commercial space industry, an area where we see considerable growth going forward."
"Houston is seeing a surge in in-migration, and Greater Houston's population is forecasted to grow 15.6% over the next five years," said Josh Kogel, Vice President at Praedium. "The market continues to attract young professionals looking to live adjacent to a city that offers a high quality of life as well as a multitude of employment opportunities. In addition to the more than 250,000 jobs that Lenox Clear Lake residents have direct access to, the property is proximate to two million square feet of retail space and is zoned to the Clear Creek ISD school system, which ranks as the fifth best school district in Houston."
Other local lifestyle amenities include the Armand Bayou Nature Center, the largest urban preserve in the U.S. covering 2,500 acres, Clear Lake, a 2,000-acre lake that is known as the boating capital of Texas, and the Kemah Boardwalk, the largest entertainment district in the region.
ABOUT THE PRAEDIUM GROUP
The Praedium Group is a privately held real estate investment firm formed in 1991. Since inception, Praedium has completed over 390 transactions representing $12 billion in capital. Over the past 31 years, The Praedium Group has sponsored a series of ten private equity funds, as well as several separate investment vehicles. The commingled funds and separate accounts sponsored by The Praedium Group have attracted investors that include public and corporate pension funds, financial institutions, insurance companies, foundations and endowments. For more information, please visit www.praediumgroup.com or visit us on LinkedIn. A video highlighting the firm's 2021 achievements can be viewed here.