Praedium Group acquires Sound at Pennington Bend in Nashville, TN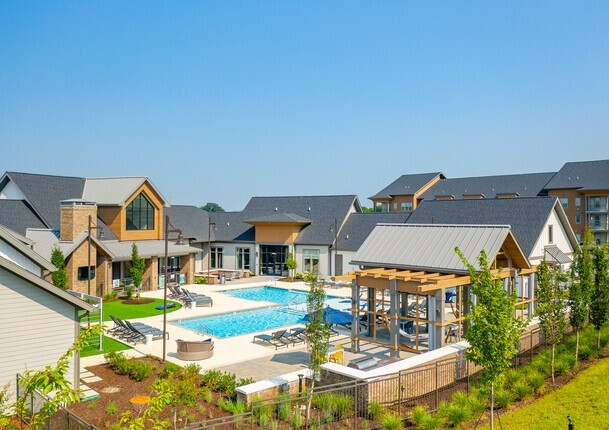 New York, NY – The Praedium Group, a national real estate investment firm, announced the acquisition of The Sound at Pennington Bend, a newly-developed, National Green Building Standard-certified, 296-unit multifamily property in Nashville, TN. Kelsey Durels, Vice President at Praedium, announced the transaction.
The property delivered its first units in early 2021 and is comprised of one-, two- and three-bedroom apartments with expansive floor plans. The property features superior interior unit finishes such as 9' ceilings, granite countertops, stainless steel appliances, shaker-style cabinets, subway tile backsplash, a LATCH smart home equipped system, hardwood-inspired plank flooring, full-size washer/dryers, walk-in showers, walk-in closets, keyless entry, and private patios/balconies.
The Sound at Pennington Bend also features a market-leading amenity set, including a 12,600 square foot clubhouse that is one of the largest residential community clubhouses in the Nashville market. Other lifestyle amenities include saltwater swimming pool with sun shelf, expansive sun deck with cabana, business center suite, co-working spaces, fitness center and private yoga room, covered outdoor fireplace, and a fenced in dog park with agility equipment and dog spa.
Additionally, the property is NGBS Bronze certified and was constructed with green standards related to energy efficiency, water efficiency, resource efficiency, lot development, operation and maintenance, and indoor air quality.
"Nashville remains one of the nation's leading markets for population and job growth. Its population grew 19.1% from 2010 to 2020, surpassing the U.S. population growth of 6.7% and Tennessee population growth of 8.5%," noted Ms. Durels. "Further, the property has connectivity to major employment nodes including downtown Nashville, which offers more than 150,000 jobs. Nashville is also expected to grow as a technology destination for qualified talent, and future high-tech employers such as Oracle (8,500 jobs), Amazon (5,000 jobs), and Facebook ($800 million investment) have all recently announced plans to create jobs in the market."
The Sound at Pennington Bend is within five minutes from the Gaylord Opryland Resort and Convention Center, one of the top 30 largest hotels in the world with more than 10,000 jobs and a $1 billion annual economic impact. The property is within 10 minutes of the Nashville International Airport, which is currently undergoing a $1.4 billion expansion; both Amazon and FedEx are building new fulfillment centers near the airport.
The property is additionally proximate to retail and lifestyle amenities, and the Opry Mills Mall totaling 1.2 million square feet is located nearby. Further, the apartment community was built as part of an additional one million square feet of development which is expected to include a mix of uses with office, retail, and food and beverage space – offering residents walkable retail and employment right outside their doors.
The Sound at Pennington Bend is also central to abundant outdoor lifestyle amenities including ten parks, ten miles of greenway, and five golf/disc golf courses (3,000+ acres of outdoor space). It is five minutes from the Cumberland River Pedestrian Bridge which is considered a vital link in Nashville's emerging greenway system as it connects almost 22 miles of walking and biking trails.
ABOUT THE PRAEDIUM GROUP
The Praedium Group is a privately held real estate investment firm formed in 1991. Since inception, Praedium has completed over 380 transactions representing $12 billion in capital. Over the past 31 years, The Praedium Group has sponsored a series of ten private equity funds, as well as several separate investment vehicles. The commingled funds and separate accounts sponsored by The Praedium Group have attracted investors that include public and corporate pension funds, financial institutions, insurance companies, foundations and endowments. For more information, please visit www.PraediumGroup.com or visit us on LinkedIn.