Praedium Group Acquires Winter Park 2 in the Orlando MSA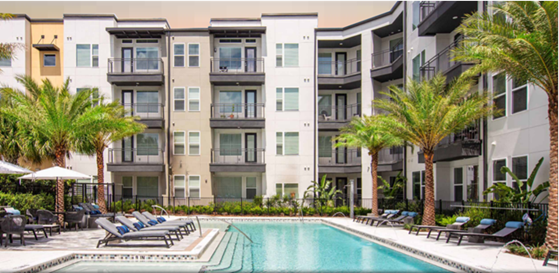 New York, NY –The Praedium Group, a national real estate investment firm, announced the acquisition of Alexan WP2, now known as Winter Park 2, a 222-unit, newly developed multifamily property located in Winter Park, Florida, part of the greater Orlando MSA. Christopher Hughes, Principal at The Praedium Group, announced the transaction.
Completed in 2021, Winter Park 2 is a four-story elevatored residential building that features market-leading amenities, high-quality unit interiors, a structured parking garage and interior air-conditioned corridors. The well-located property sits within the Winter Park neighborhood, one of Orlando's most affluent and desirable submarkets with high barriers to entry. Winter Park 2 is also within close proximity to I-4, one of the main transportation arteries in Orlando that connects it to Tampa and Daytona Beach.
"Winter Park 2's proximity to employment hubs and main job drivers in healthcare, education, finance and STEM research make this acquisition a high-quality addition to the Praedium portfolio and expands our footprint in Central Florida," said Lindsay Schuckman, Vice President at The Praedium Group. "The Orlando market has grown substantially over the last decade as residents continue to migrate to the area because of its lower cost of living, tax-friendly environment, and better quality of life."
Winter Park 2 features superior unit interior finishes including quartz countertops in the kitchens and bathrooms, stainless steel appliances, full size washer and dryer, vinyl plank flooring, keyless entry, and USB outlets. The Property's expansive amenity set includes a resort style pool with sun deck, lounge seating and shaded cabanas, courtyard fireside retreats with armchair seating, outdoor gaming area and sun terrace, a co-working lounge that features private conference booths, computers and printer stations, state-of-the-art fitness center, clubroom with HDTV's and gathering spaces, bike repair and storage, and an enclosed pet park and pet wash station.
"Praedium seeks attractive acquisition opportunities in growth markets, and we believe Winter Park 2 has many of the qualities we look for in a multifamily investment," said Mr. Hughes. "The property's central and accessible location, less than 10 minutes from Downtown Orlando and less than 5 minutes from Orlando's Health Village (home to the nation's second largest hospital) and Winter Park's high-end amenities, make the asset desirable to tenants."
Just two miles from the property sit high-end restaurants, retail, and entertainment, including Park Ave District with more than 60 local shops and eateries and Winter Park Village with 525,000 square feet of retail including Ruth's Chris Steak House and a Whole Foods grocery store.
ABOUT THE PRAEDIUM GROUP
The Praedium Group is a privately held real estate investment firm formed in 1991. Since inception, Praedium has completed over 380 transactions representing $12 billion in capital. Over the past 30 years, The Praedium Group has sponsored a series of ten private equity funds, as well as several separate investment vehicles. The commingled funds and separate accounts sponsored by The Praedium Group have attracted investors that include public and corporate pension funds, financial institutions, insurance companies, foundations and endowments. For more information, please visit http://www.PraediumGroup.com/ or visit us on LinkedIn.