The Praedium Group Announces Four Senior Level Promotions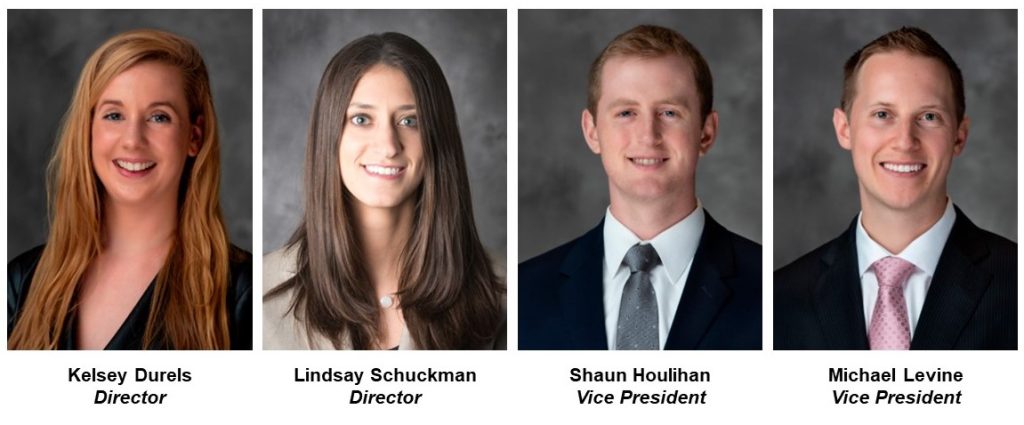 New York, NY – March 21, 2023 – The Praedium Group (Praedium), a national real estate investment firm with a track record spanning more than three decades, announced a number of senior level promotions. Among the executives promoted were Kelsey Durels and Lindsay Schuckman, who were named as Directors, as well as Shaun Houlihan and Michael Levine, who were named as Vice Presidents.
Ms. Durels and Ms. Schuckman have been at Praedium for nine years. They started as analysts and have been promoted over the years to their current positions. Mr. Houlihan and Mr. Levine also started at Praedium as analysts, demonstrating the firm's commitment to creating an environment of growth that fosters talent and career development.
"We believe our Praedium team is comprised of some highly accomplished people, and these recent promotions reflect our conviction in our team's successes," said Russell Appel, Founding Principal at Praedium. "We are proud to announce the promotions of Kelsey, Lindsay, Shaun and Michael and look forward to continuing to work with them as senior members of our team."
ABOUT THE PRAEDIUM GROUP
The Praedium Group is a privately held real estate investment firm formed in 1991. Since inception, Praedium has completed over 390 transactions representing $12 billion in capital. Over the past 32 years, The Praedium Group has sponsored a series of ten private equity funds, as well as several separate investment vehicles. The commingled funds and separate accounts sponsored by The Praedium Group have attracted investors that include public and corporate pension funds, financial institutions, insurance companies, foundations and endowments. For more information, please visit www.praediumgroup.com or visit us on LinkedIn. A video highlighting the firm's 2021 achievements can be viewed here.